JOGMEC and Hakusan/JGI JV Commence Technical Solution
Project for an advanced Reservoir Monitoring System

PDF version of this page (168 KB)
 Japan Oil, Gas and Metals National Corporation (JOGMEC ) and a JV of Hakusan Corporation (Hakusan President: Mr. Minoru Yoshida) and JGI (President: Mr. Taku Kawanaka) announced today the commencement of technical solutions project aiming at developing an advanced reservoir monitoring system using a new optical interferometry sensor.
 JOGMEC has started "Technical Solutions Project" in 2013 in which JOGMEC conducts technology development collaboratively with a wide range of Japanese industries to customize advanced technologies and offer "technical solutions" for the challenges in oil and gas E&P projects. As a part of the "Technical Solution Project", JOGMEC has been developing highly accurate and permanent reservoir monitoring system using a new optical interferometry sensor since 2014. Existing monitoring systems are based on conventional seismic sensors such as Geophone and have difficulty for long-term stable and precise reservoir monitoring in a tough environment such as deep water and borehole. This technology is based on optical interferometry utilizing short optical pulse and to realize high accuracy and wide range of measurement frequency as well as multi component and multi-point observation at lower cost. Further, because this system does not require power supply nor electric circuit, it would be free from effects due to electric and electromagnetic noises for permanent monitoring.

 On 31st October 2016, the three companies entered into a technical development agreement aiming at reducing sizes of the sensor so far developed and to evaluate the feasibility of the new system through laboratory tests as well as long-term pilot tests at underground oil storage in Japan as a phase 2 project. The evaluation work is scheduled to be completed by March 2018 prior to conducting tests at operating oil/gas fields to prove commercialization.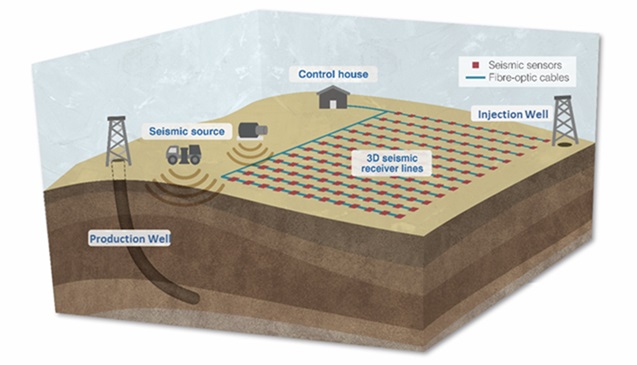 The inquiry about this page.
Technical Solutions Project GroupMiyoshi
Fax +81-3-6758-8065
Public Relations Division
Tel +81-3-6758-8106
Fax +81-3-6758-8008