JOGMEC Provides Equity Financing to ITOCHU's Exploration Project in the UK North Sea

PDF version of this page (223 KB)
 Japan Oil, Gas and Metals National Corporation (JOGMEC) announced that it will provide equity financing to CIECO V&C (UK) Limited ("CIECO V&C"), a wholly owned subsidiary of ITOCHU Corporation ("ITOCHU"), which holds a 12% participating interest in the exploration licence P2170 area (Blocks 20/5b and 21/1d) offshore United Kingdom.
 In December 2014, ITOCHU's wholly owned subsidiary, CIECO Exploration & Production (UK) Limited ("CIECO UK"), was awarded an exploration licence P2170 (Block 20/5b and 21/1d) on the United Kingdom Continental Shelf (UKCS) jointly with Trap Oil Limited (now a wholly owned operating subsidiary of Jersey Oil & Gas Plc) as a result of the UK 28th Offshore Licensing Round. The partners strategically farmed-out an operating 70% interest to Statoil (U.K.) Limited in August 2016, leaving CIECO UK a 12% interest.
 JOGMEC will provide equity capital covering up to 50% of the exploration expenditures incurred by CIECO V&C, established dedicatedly for this purpose and assigned the interest in the blocks by CIECO UK.

 This project with highly promising potential is expected to accelerate the diversification of Japan's crude oil import if successful. In addition, JOGMEC's support to CIECO V&C will enrich ITOCHU's portfolio in the UKCS coupled with the Western Isles Development Project due to start oil production within this year where CIECO UK enjoys JOGMEC's loan guarantee programme.
CIECO V&C (UK) Limited
Shareholders after JOGMEC's funding
ITOCHU (Voting rights more than 50%)
JOGMEC (Voting rights less than 50%)
Licence P2170 (Block 20/5b and 21/1d)
3. Participating Interest
| | |
| --- | --- |
| Statoil (U.K.) Limited (Operator) | 70% |
| Trap Oil Limited | 18% |
| CIECO V&C (UK) Limited | 12% |
| | |
| --- | --- |
| Date of Approval | August 4, 2017 |
| Estimated Amount of Equity Financing | approximately JPY 3 Billion |
Note
:
Approval has been made in accordance with JOGMEC's technical, economic, and business-environment criteria and the consent from the Minister of Economy, Trade and Industry has been obtained.
Location of Contract Area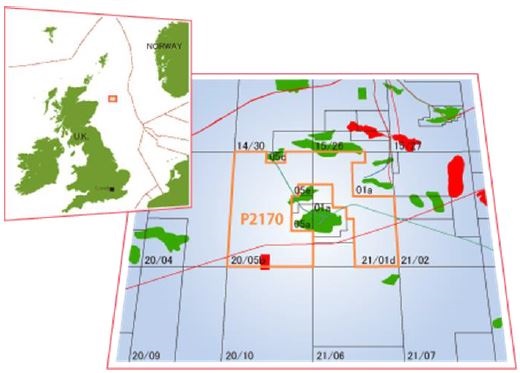 The inquiry about this page.
Business Coordination Division 2
Tel +81-3-6758-8023
Fax +81-3-6758-8008
Public Relation Division
Tel +81-3-6758-8106
Fax +81-3-6758-8008