JOGMEC Participation in the 1st Asia CCUS Network Forum
:Promoting International Cooperation to Achieve Carbon Neutrality in Asia


PDF version of this page (263 KB)
JOGMEC made a presentation on its Carbon Dioxide Capture and Storage(CCS)activities at the "1st Asia CCUS Network Forum" on June 23, 2021.
JOGMEC participated in a panel discussion on promotion of private investment in Carbon Dioxide Capture, Utilization and Storage(CCUS)at the 1st Asia CCUS Network Forum, held on June 22–23, 2021, and introduced current challenges to deployment of CCS in Asia as well as related JOGMEC activities.

JOGMEC participates in the Asia CCUS Network which was formed at the forum as an advisory group member and a supporting member. JOGMEC will be actively involved in development of CCS in Asia, and will further promote international cooperation in the field of CCS to contribute to the realization of a carbon-neutral society through stabilizing the supply of natural resources and energy.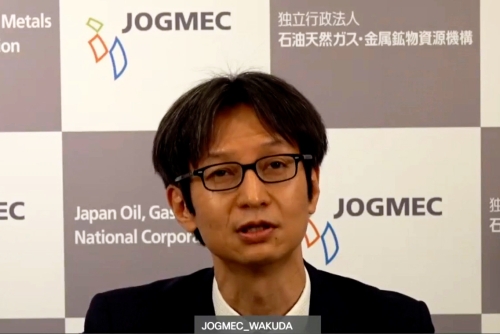 Presentation by Hajime Wakuda, President, JOGMEC
The Asia CCUS Network was proposed by the Japanese government and established at the 14th East Asia Summit Energy Ministers Meeting held in November 2020 as part of the "Asia Energy Transition Initiative," a support initiative of the Ministry of Economy, Trade and Industry(METI)aimed at simultaneously achieving sustainable economic growth and carbon neutrality in Asia. The purpose of the network is to develop the business environment and share knowledge for promotion and deployment of CCUS throughout Asia. JOGMEC is participating in this network as an advisory and supporting group member.
References (related news releases)
The inquiry about this page.
Global Coordination Team, CCS Group
Tel +81-3-6758-8671
Public Relations Division
Tel +81-3-6758-8106
Fax +81-3-6758-8008